1. Access a training session
Are you a learner who wants to access the courses you are registered for? Here's how to do it.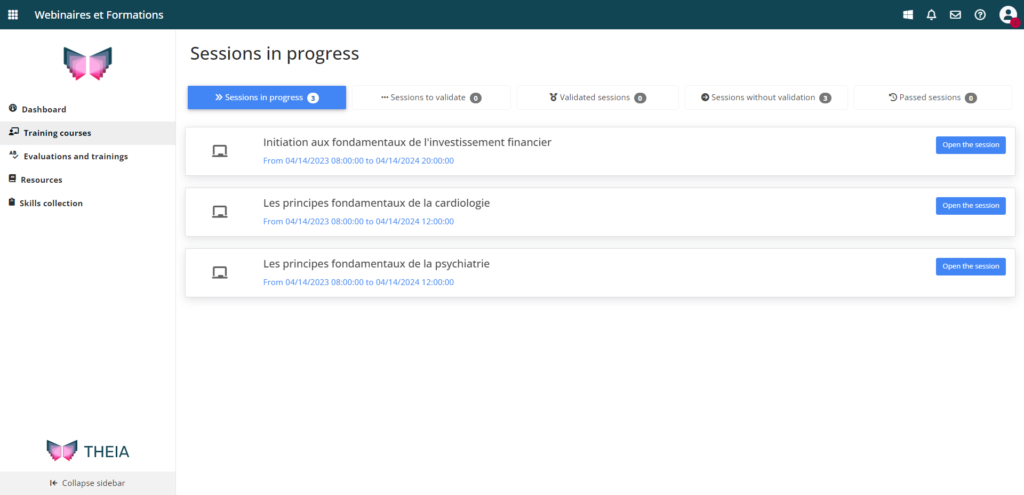 To access the interface dedicated to the participants of a session, click on the "Learner's area" icon.
The list of sessions in progress, to be validated, validated, without validation and past sessions for which the learner is registered is then displayed in the "My Trainings" menu.
At the end of the line, the button opens the session.
Once the training session has been opened, the user will be able to start the activities in the "Training plan" tab.
Then, the user can start the activities using the "Start" button.
Users can navigate between the different activities in the session using the side menu.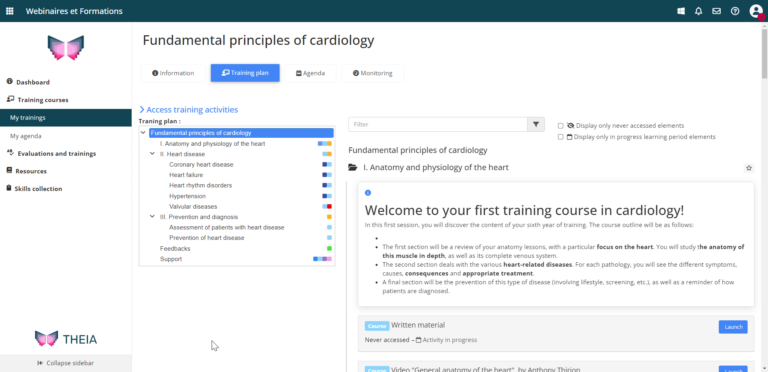 The following tabs will display a variety of information about your training session:
"Information" displays an overall message as well as various information throughout the session.
"Scheduled activities are displayed in the "Agenda" menu. In this example, the activities "Myocardal schematic" and "Written material" are available until 16 June. On the opposite, the activity "Assessment" is available from 19 to 20 June.
When the training objectives are activated, the "Training objectives" tab will allow you to see the conditions and the status of each learning objective. In this example we can see that objective 1 has been validated. 
The "Monitoring" tab provides detailed, individual monitoring for each activity in the training session.
If you want to find out more, have a look at the tutorial below: "Taking part in an exam".