1. Use the platform to write an email
Through the "Communication > Messaging service" menu, the platform allows users to send internal messages or emails.
The email will then be directly available for consultation in the messaging system. The internal message will have a red dot on the envelope icon in the top banner of the window.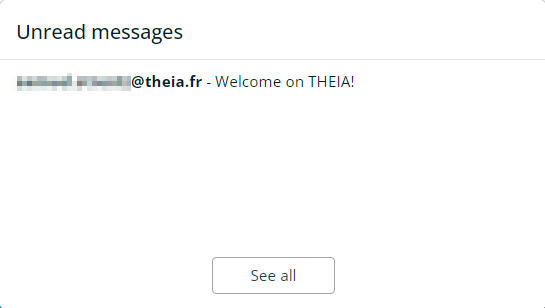 Message subject: This is the subject of the email and/or internal message.
Send this message by email option: This option, which is checked by default, causes an email to be sent to the user's configured address in addition to the internal message.
Message sender address: This address, which cannot be changed, will appear as the sender in the e-mail.
Reply-to address: If the user replies from their email address, this address is automatically entered as the destination address.
Clicking on the "Select recipients" button opens the window shown opposite.
The first tab displays all the recipients, while the second allows you to add them individually or by group.
The "Groups" and "Has already been connected" filters are useful for sorting the list according to the different groups, and whether or not the users have already logged in to the platform.
The "Add all users" filter and "Add selection" buttons add the entire list or selected rows.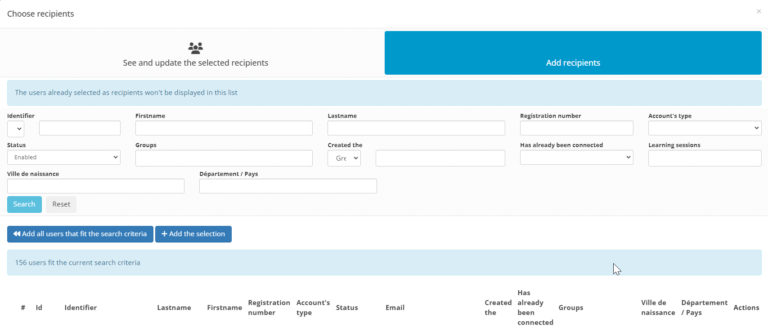 The body of the message is written in the dedicated text box. Several page layout options are available. Some of them (in red) allow you to use Direct Mail.
The last name, first name, connection ID, connection address and personnel number of all recipients can be filled in automatically.
If the user is logging in for the first time, he can use this login address to define his or her definitive password. Otherwise it will be the following link: https://elffe.theia.fr/login-choice
The example below shows how to write an email for new users.
Once the content has been written, a signature and several attachments can be added.
The messaging service has other features:
Draft: If you want to save a message for later sending, you can save it as a draft.
Templates: If a message is sent regularly, it can be saved as a template.
Sent messages: Provides a view of the user's sent messages or all messages sent on the platform, depending on the user's rights.
Signature: Several text and/or image signatures can be configured. The "default" signature is automatically pre-loaded in emails.
To find out more, see the following tutorial: "Creating and managing groups".