The library is a space used to publish any type of document (educational or otherwise) to a group of learners.
The "Communication" > "Library" menu shows a list of libraries sorted by category. In this window, you can :
Modify / Archive / Duplicate a library
Manage categories: You can add, delete or rename categories using the "Manage library categories" button.
Add a new library: Use the "Add a new library" button to configure a new library. The following window opens to define a title, a category, its status (visible to learners or not) and the activation of notifications (a notification will appear in the notification centre when a document is added).
The configuration interface then opens, with the following tabs:
Preview: Preview of the library tree.
Parameters: Modify the parameters selected in the window above.
Publish: Select the user groups concerned.
Content: Management of folders and content to be used.
Contributors: Manage users who can work on the library.
Sharing: Read-only sharing of the library with other platforms.
Mutualisation: Read and write sharing of the library with other platforms.
On the left-hand side, the available groups are displayed. Clicking on the "+" icon gives the group access to the library. Several groups can be added.

To organise and present content in the best possible way, folders can be created using the "+" icon, then by selecting "Folder".
There are three options for adding content:
External link: This will redirect the learner to the page set up.
Add from another library: Duplicates content present in another library.
File: Opens the window opposite to define a title, description, status (visible or not to learners) and the file concerned. All file types are accepted as long as they are less than 50 MB in size. However, depending on the format, the behaviour will be different. Images, videos, sounds and .pdf documents will be displayed or read. .doc, .pptx or .xlsx files, for example, will be downloaded by the learner.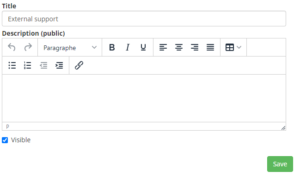 To enable other users to work on the library, it is possible to add contributors. Via the "Manage by user" or "Manage by group" tab, the contributor will have access, depending on the settings, to the "Publish" tab by ticking "Publish library to the users", the "Content" tab by ticking "Modify the library" and/or the "Contributors" tab by ticking "Modify contributors".
By selecting the "Library" icon, learners can choose one of the libraries and consult the documents available by clicking on the icon below.